Overview of Kirara Acupuncture
& Moxibustion Clinic in Sapporo Japan

Kirara Acupuncture & Moxibustion Clinic( Kirara AMC )
is Located in Maruyama Chuou-ku Sapporo-City Hokkaidou Japan.
The nearest subway(Tozai-Line) stations are "Maruyama-Kouen" 7min-distance by walk and "Nishi-28(Nijyuhachi)-Choume" 5min-distance by walk.
Kirara AMC is qualified a facility where the use of the Nation Health Insurance and the National Labor Insurence(worker's accident compensation insurance) was admitted.
The representative of Kirara AMC is Tsutomu Tomishima, who has the National Acupuncture License and the National Moxibustion License. He provide relief by a natural approach to your body.
●Parking is provided.
●Home-visit treatment is available.
Policy of Kirara
Blood Flow to Brain
We think that it is a very important to increase blood flow to brain for a whole physical body and also your mind. Because the brain is center headquarters of the bodies. The Poor blood flow to brain cause poor performance of brain.
Stiffness in Muscle
If there is a neck stiffness in your muscle that presses blood tubes then it cause reducing the blood flow to brain.
So we will take the neck stiffness as the key treatment now.
Also it is a important to increase the blood flow for a total body. So we will take any stiffnesses in your body.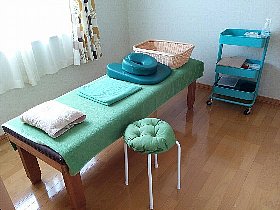 Treatment
Technique
We use Modern Western Medicine technique for a targeting muscle. And Traditional Chinese Medicine techniques for acupuncture point as Qi(chi) energy.
Our acupuncture techniques are non insertion, a normal insertion and a deep insertion. Also an electro acupuncture.
We use Moxibustion aggressively too.
Good Treatment
We have a good treatment for the muscle trouble such as Shoulder Stiffness, Lower Back Pain, Gonalgia related muscle, Hip Pain, Neck Pain and Hypertension.
Moxibustion is very useful for a Ingrown Toenail.
Mental Sick
Also we can provide relief for a mental sick such as depression, autonomic ataxia and juvenilis cerebral infarction.
In the mental sick, many stresses in the past time are memorised as the physical troubles in your body. We can see these memories in your body. These make the stiffness in muscle pain or numbness, or insensitive to physical stimulation too.
Body and Mind Are One
In general, the mental things are complicated issue because of not visible. But we treat it as the visible muscle trouble. We take off the muscle troubles that are your bad memories. So it makes relief for your mind.
Thank you for the great words of Buddha. "Body and Mind Are One".
Selfcare
We think that daily food and physical exercise are very important for keeping good health continuously.
We offer basic food method and physical exercise method, it is not tough and is easy to do.
  Contact Us and Access

■Kirara Acupuncture & Moxibustion Clinic in Sapporo Maruyama

Address: Pastorale Maruyama 101,
5-10, Nishi-28(Nijyuhachi)-Choume,
Kita-1(Ichi)-Jou, Chuou-Ku, Sapporo-City
Zip 064-0821

Phone: 011-522-8861


We accept Resevation Only. Phone or Mail please.

Open: Mon-Sat : 9:00-19:00
Close: Sunday

■Parking space
The parking space for one car is provided in front of the building.
In the below picutre, the parking space is the dotted yellow line on the ground.
( English verion on 2019/4/20 )
( Added Blog of Curing Depression on 2021/5/24 )